二か国語対応
Menu
Japanese only
Akizuno Links
Japanese only

It is about ten minutes from Kitera by car. There is the farmer's restaurant, 'Mikan Batake' in Akizuno Garten. Local mothers make slow food lunch buffet with local fresh vegetables, and it is very popular.
It is also a reasonable price: An adult for 950 yen.
Open 11:30 to 14:00 on weekdays
11:00 to 14:00 on weekends and holidays
No reservation needed
TEL 0739-35-1199


Akizuno Garten is completely equipped with facilities for staying.
You can use it as accommodation for green tourism, the entrance to Kumano Kodo, or for Nanaki Shirahama Onsen.
Booking at Akizuno Garten
TEL 0739-35-1199



  Oren-chi juice factory started in 2004, and moved to the current place in January, 2011.
There are full of mikan farmer's dreams in the small factory.

---

 It's the season for Oren-chi!

Oren-chi Juice factory on-line observation 


Unsyu-mikan Pon-kan Sanbo-kan Kiyomi Orange Deko-pon Valencia Orange Ando-kan Oren-chi no Plums Daidai in love with plums Lemon as it is Daidai as it is

Click here



Click here


Why don't you take a look inside the juice factory?

It's a small factory, but connected all the machines by a pipeline, and making juice under sanitary environment. Of course, the juice extractor is made in America, and it is an exceptional item. We put mikan one by one and extract. We heat juice with the plate sterilizing machine and bottle it.


Kitera Oren-chi Juice Club Birth Story

With moving Kitera to a new place, Kitera Oren-chi Juice Factory was built in 2004. We introduced the sterilizing machine made in America, and sold fresh juice every day in Kitera. We got good reputation there. People said, 'it's delicious,' 'I never had the juice like this,' and 'It's very fresh.'
Farmers had been thinking that it is wasteful not to sell the products because of bad shapes or looks even though the taste is same. We used to deliver those produce to a big juice factory through JA (Japan Agricultural Cooperatives,) but because of the cost of collecting and delivering, farmer didn't get any benefit. "What can we do?" "Let's fight with the taste of mikan as it is!" 30 farmer gathered and came up the plan of making natural fresh juice.
Nobody had ever produced juice in the bottle before. We don't even know how many times we failed. We begged the big juice factory to teach us how to make fresh juice, and challenged hundreds of times. Finally on December, a year after we started to make juice, we completed to make our standard juice. There were 365 days of getting know how of making juice. Were customers be satisfied? We weren't sure about that. Those worries swept away with a call from a customer who bought Kitera Set, 'That juice was great! Is it really additive-free?' All said 'we could convey a real taste.'
There came a lot of new machines one after another in the smallest juice factory in Japan, and we commenced full-scale produce. Some famous department stores were candidates for dealing with us. Buyers who want to introduce the juice with the country of Akizuno appeared.
We all thank to our ancestors. There are lots of kinds of citrus fruits in the country. How we survived until now is to have many kinds of produce. Unsyu-mikan, Ponkan, Sanbo, Dekopon, Kiyomi Orange, Valencia Orange,,, a new taste of juice development continues.


Shop manager's selected information
Oren-chi Juce for Special Price
You can buy Oren-chi Juce with special price of members after you login or sign up
free membership of Kitera.
※Forgot ID or Password?
Click here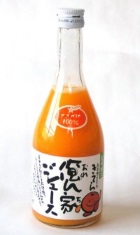 Five minutes from famer's market 'Kitera,' there is Akizuno Garten, a facility connecting urban and local agriculture community, formed with reusing the local elementary school.
It is a popular facility and about 70,000 people visit here in a year.
TEL 0739-35-1199

'Valencia Batake', the sweets workshop using citrus fruits harvested in the area, is very popular. Why don't you stop by and try making sweets for mementos of visiting the country of Akizuno?
TEL 0739-35-1187